Short way to event
For entertainment:
Concerts and parties
Clubs
Museums
Festivals
Sell tickets

to your events

and get the money to your
banking card right away
I want to sell tickets
to my event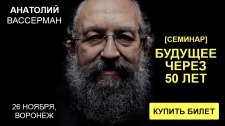 Seminar
Лекция Анатолия Вассермана "Будущее через 50 лет" Каким будет мир в ближайшем будущем: экономика, политика, бизнес, мироустройство, люди, какие вызовы и угрозы ожидает нас через 50 лет.
26 November 2016
Russia, Voronezh, отель Mercure

Seminar
Скажу без преувеличения – это моя лучшая программа. В ней собраны самые необходимые, самые эффективные инструменты маркетинга, которые помогут любой компании стать лучше (лучше работать с клиентами -– привлекать, удерживать, возвращать и правильно работать с клиентским потоком и клиентской базой.
21 May 2016
Russia, Voronezh, АМАКС Парк-отель
Seminar