Short way to event
For entertainment:
Concerts and parties
Clubs
Museums
Festivals
Sell tickets

to your events

and get the money to your
banking card right away
I want to sell tickets
to my event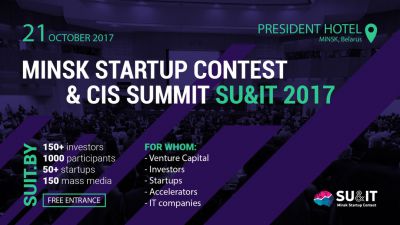 Seminar
Su&IT 2017 - is a event where startups meet investors, successful entrepreneurs, large corporations and government officials and each other!
21 October 2017
Belarus, Minsk, President-Hotel
Seminar
Руководителям, владельцам и маркетологам современной розницы. Более 140 конкретных инструментов увеличения продаж в магазине, бутике, торговом центре. Насыщенная программа. 1700 слайдов с полезной информацией - примеры, технологии, идеи. Ведущий: Олег Лихачев, опытный маркетер, практик.
5 October 2016
Belarus, Minsk, Гостиница "Беларусь", Галерея

Seminar
ТЕПЕРЬ У НАС ЕСТЬ ЖИВАЯ СИСТЕМА – КУРС ЧУДЕС УЖЕ С ПЕРВОЙ ВСТРЕЧИ ЖИЗНЬ КАЖДОГО УЧАСТНИКА НАЧИНАЕТ СТРЕМИТЕЛЬНО МЕНЯТЬСЯ В СТОРОНУ РАДОСТИ И УДОВЛЕТВОРЕНИЯ! ЭТО – НАША ГАРАНТИЯ! Курс гармонично выстроен на фундаменте новейших исследований в области изучения ЧЕЛОВЕКА.
14 November 2015
Belarus, Babruysk, Интернет