Short way to event
For entertainment:
Concerts and parties
Clubs
Museums
Festivals
Sell tickets

to your events

and get the money to your
banking card right away
I want to sell tickets
to my event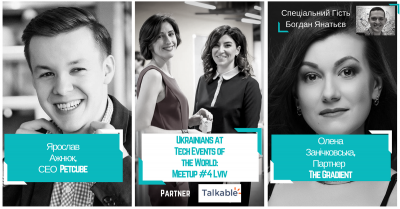 Seminar
Ukrainians at TECH EVENTS of the WORLD (UTEW) - це спільнота для обміну досвідом українців, які відвідують глобальні технологічні івенти з метою знайти інвесторів або партнерів, познайомитися з міжнародними журналістами, розширити свій нетворк, заявити про свій продукт.
1 October 2017
Ukraine, L'viv, Pravda Beer Theatre, Rynok Square, 32, L'viv, Lviv Oblast, 79000

Seminar

Seminar
Открытие офиса бизнес-инкубатора WannaBiz в Киеве.
27 September 2014
Ukraine, Kyiv, WannaBiz office

Seminar
22 февраля в Днепропетровске состоится авторский семинар посвященный юридическим вопросам, с которыми сталкивается предприниматель на всех этапах жизни своего стартапа - от идеи до продажи. Семинар будет насыщен практическими вопросам и советами из жизни бизнеса. Мы поделимся своим опытом.
22 February 2014
Ukraine, Dnipro, Конференц-зал "Art of Life" ул. Красная, 10

Seminar
16 ноября в Киеве состоится авторский семинар посвященный юридическим вопросам, с которыми сталкивается предприниматель на всех этапах жизни своего стартапа - от идеи до продажи. Семинар будет насыщен исключительно практическими вопросам и советами из жизни бизнеса. Мы поделимся своим опытом, опытом наших партнеров и клиентов. Вы получите практические знания, которыми сможете воспользоваться сразу.
16 November 2013
Ukraine, Kyiv, i-klass

Seminar
The webinar is intended for young entrepreneurs and philanthropists of CIS audience. The goal of the webinar is to describe the main aspects of crowdfunding, the perspectives of its development in CIS, how it can help to estimate the viability of start-up and its attractiveness for publishing it on crowdfunding platforms.
21 October 2013
Russia, Moscow, Образовательный бизнес-центр