Short way to event
For entertainment:
Concerts and parties
Clubs
Museums
Festivals
Sell tickets

to your events

and get the money to your
banking card right away
I want to sell tickets
to my event
Festival
August 24, 25 and 26 in the Principality "Kievan Rus" will celebrate Independence Day of Ukraine with interesting shows and fascinating entertainments. The program will begin with a parade of historical characters: from the Scythian king, to the leader of the tribe Drevlyan and the glades.
24 — 26 August 2019
Ukraine, Kiev, Ancient Kyiv in the Principality of Kyivan Rus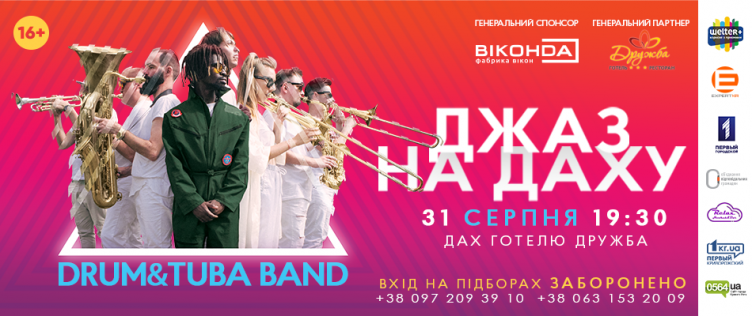 Concert
Шостий завершальний джаз-вечір сезону 2019 на даху готелю Дружба! 31го серпня єдиний український проект, що виконує хіп-хоп на духових Drum&Tuba Band презентує свій дебютний альбом «Unwanted».
31 August 2019
Ukraine, Kryvyy Rih, Roof of the hotel Dryzhba
Festival
The feast of harmony of human and nature will be held in Ancient Kyiv, in the Kyivan Rus Principality - Show-exhibition "The World of Horses". The main ones at this event will be no princes or heroes, and their true companions and good friends but horses from the Princely Stable of Ancient Kyiv.
1 September 2019
Ukraine, Kiev, Ancient Kyiv in the Principality of Kyivan Rus
арт майстерня "Інший світ" - Львів (дитячий) 3d фотозона, планетарій, галерея оптичних ілюзій, криві дзеркала, виставка "Життя під мікроскопом" караоке
26 July 2018 — 31 December 2020
Ukraine, Truskavets, вулиця Шевченка,11
Шановні користувачі! Вартість відвідування: Діти зростом до 1.20 см. – 50 грн. Діти зростом від 1.20 см. та дорослі – 100 грн. Багатодітні сім'ї, пенсіонери, ліквідатори ЧАЕС – 25 грн. Групові відвідування від 10 осіб – 10% Групові відвідування від 20 осіб – 15%
1 December 2016 — 31 December 2035
Ukraine, Kiev, Animal Park контактний зоопарк на ВДНГ